Our Suite Room
ROOMS & SUITES
Hotel Booking Form
---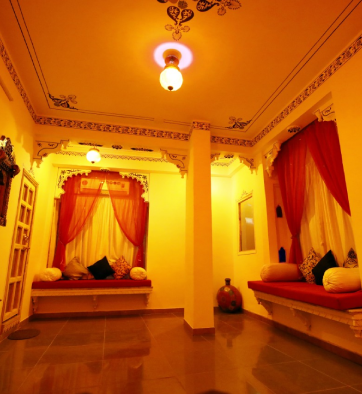 Welcome to the pinnacle of refined luxury at Yummy Yoga, where our Suite Room awaits to redefine your stay into an extraordinary experience. Nestled in the heart of Udaipur, our suites embody a harmonious blend of opulence and comfort, setting the stage for an unforgettable sojourn.
As you enter our Suite Room, you are welcomed into a realm of spacious elegance, designed to provide not just accommodation but a sanctuary of sophistication. With panoramic views that paint a picturesque backdrop, plush bedding that promises a rejuvenating sleep, and a separate living area for both relaxation and functionality, our suites are crafted to exceed expectations.
Immerse yourself in the exquisite decor that defines our Suite Room, where every detail is thoughtfully curated to create an ambiance of timeless sophistication. Modern amenities seamlessly complement the luxurious surroundings, ensuring your stay is not only memorable but also convenient.
At Yummy Yoga, our commitment to excellence extends beyond providing a place to stay; we offer an elevated experience that caters to the discerning traveler. Whether you're here for business or leisure, our Suite Room invites you to a world where luxury is not just a feature; it's a way of life. Welcome to an unparalleled escape at Yummy Yoga.
Modern Comfort
Experience contemporary luxury with state-of-the-art amenities and modern conveniences designed to make your stay effortless and enjoyable.
Plush Bedding
Sink into the embrace of plush bedding that promises a restful night's sleep, ensuring you wake up refreshed and
ready to seize the day.
Chic Decor
Immerse yourself in an ambiance of chic decor and tasteful furnishings, creating an inviting atmosphere that feels like a home away from home.
---
Well-Appointed Bathroom
Refresh and rejuvenate in the well-appointed bathroom, equipped with modern fixtures and indulgent amenities for your convenience.
In-Room Entertainment
Stay entertained with a range of in-room entertainment options, ensuring there's never a dull moment during your stay.
Complimentary Wi-Fi
Stay connected with complimentary high-speed Wi-Fi, allowing you to seamlessly blend work and leisure.
25 Bheem Parmeshwar Marg, near Hanuman ghat, Outside Chandpole, Ambamata, Udaipur, Rajasthan 313001